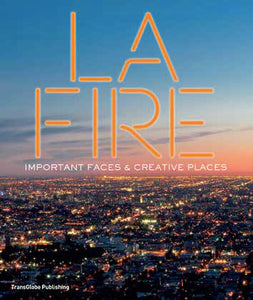 LA Fire: Important Faces & Creative Places
Having surveyed the workplaces of America's contemporary visual artists in Art Studio America: Contemporary Artist Spaces (2013), in 2015 TransGlobe Publishing, in collaboration with Thames & Hudson, produced London Burning: Portraits from a Creative City, the first in a series of heavily illustrated volumes exploring the wellsprings of creativity in urban settings across the globe. Next up is a comprehensive look at Los Angeles, working title: LA Fire: Important Faces & Creative Places.
The popular imagination equates Los Angeles with Hollywood, the pop music industry, the star system, skateboarding, surfing, freeways, car culture and television soap operas, all of which have had, for better or worse, immense international influence. Less known about but equally significant and influential have been the 'water wars' that made it possible to invent a conurbation in the LA Basin in the first place; the influx to Southern California of European émigré artists and thinkers in the first half of the twentieth century; the controversial 1980s phenomenon of postmodernism; the development of the Light and Space movement, including such master conjurers as Robert Irwin and James Turrell; and, under the keen eyes of visionary thinkers Reyner Banham and Mike Davis, radical changes in theorising and writing about urban development and ecology. Today, Los Angeles is, like London, firing up the engine of renewal yet again via a massive influx of talent across all media; indeed some of the new technologically innovative industries are changing the face of urban living globally. LA Fire intends to explore Southern California's foremost city in all its multi-layered, broadly based creativity, from music to film, television to new media, art to architecture, fashion to retail, technology to dance and writing.
What are the factors underpinning LA's unique creative pulse and perennial but vastly under-appreciated streak of avant-gardism? In a time of extreme economic and social challenges (written tests for a California driver's license are available in more than thirty languages), why and how has Los Angeles become one of the American continent's two most important creative centres? To what extent does today's West Coast dynamism drive global innovation and creativity? In recent years, historically undervalued institutions like LACMA and MOCA have expanded and flourished, while the opening of the Walt Disney Concert Hall and The Broad has moved the city squarely into the international spotlight. Home to America's largest Hispanic population, some of the country's most esteemed centres of higher education and creative learning (CalArts, Art Center College of Design, Caltech, UCLA), the LA Basin is only now developing a proper downtown 'centre'. Bequeathed a rich legacy of creativity from its earliest Native American inhabitants and some of America's greatest nineteenth-century architects and landscape artists, LA is finally taking its place beside New York as a respected cauldron of new thinking.
Los Angeles is in many ways a city of contrasts – beach culture/ opulent canyon living; undocumented labourers on the edge/fabulously wealthy music, film and real estate moguls; deserts/ocean/mountains. The city's average income hovers around $60,000. Quite a backdrop to LA Fire's sixty probing interviews with headline creatives, intended to introduce some of the best and brightest, both young and old, set against the variegated scenarios they inhabit. The book draws on a broad spectrum of personalities both in the public eye and behind the scenes; each four-, six- or eight-page profile is introduced by a unique portrait followed by a lively and conversational investigation into the soul and psyche of the Angelino profilee with a focus on their favoured haunts and neighbourhoods, and, most importantly, the quirkiness that helps to define both output and character. As an added bonus, LA Fire evokes the city through its ever-spinning creative solar system by means of five hundred specially commissioned photographs. The urban scene is thus brought alive through the eyes, ears and minds of residents at its creative core.